DJI announced today a new addition to the Mavic lineup: The DJI Mavic Pro Alpine White. This is a white version of the impressive Mavic Pro and comes with three intelligent flight batteries a protective carrying sleeve, extra propellers and more for only $1049. Sorry for those who were waiting for the Mavic 2. If you want our take on what that could be, click here. Here is what DJI has to say about the Mavic Pro Alpine White: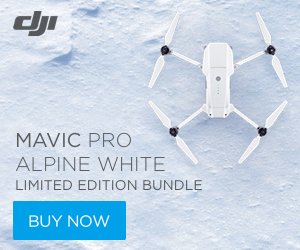 With a 3-axis gimbal 4K camera, FlightAutonomy system for precise navigation and obstacle avoidance, and intelligent flight controls such as ActiveTrack, TapFly, and Gesture Mode, the Mavic Pro family of drones continue to set the standard in the consumer drone category.
Through DJI's OcuSync video transmission system, the Mavic Pro Alpine White can support a range up to 4.3 miles (7 km)1 and is fully compatible with the DJI Goggles. Its ultra-light aerodynamic airframe and state-of-the-art propulsion system give the Mavic Pro Alpine White up to 27 minutes of flight time and can top speeds of up to 40 mph (64.8 kph) in Sport Mode.
This is a good looking version of the original Mavic Pro, not the Platinum. It does not have the noise reducing, efficient more powerful propellers that the Platinum does, but you can easily add them if you'd like. They really make the Mavic even more impressive. Learn more about that here or in our video below.
You can start ordering the DJI Mavic Pro Platinum today. If you want to learn more about the awesome Mavic Pro then take a look here.
More Drones…
Every month we update what we believe are the best drones on the market. Check out Best Drones Now. We have also created the one-of-a-kind Half Chrome Drone Cipher™. You answer a few questions and we'll pair you with the best drone for you.
Do you want to search by price? Click on your menu above or we can break it down for you. Check out drones under $50, from $50-100, from $100-200, from $200-500 or over $500. Maybe you like a good Top Ten list, we've got you covered.
Learn More…
If you want to learn more about taking great pictures or flying FPV then check out our comprehensive guides on those topics. Also take a look at our articles on how to choose the right drone for great aerial photos or for getting started flying race drones. Learn more about drones and how to get the most out of them in our Drone Academy. In the Academy we also detail some of the advanced testing we do, including our recent addition, drone thrust testing.
I Want Videos…
Did you know that Half Chrome has its own YouTube Channel? We have reviews, flight tests, crashes, 360-degree videos and more. Check it out and subscribe today.
Disclosure:
This website contains affiliate links, which means we receive a commission if you make a purchase using these links. For full details visit the disclosures and disclaimers page.