The small compact DJI Spark is billed as the drone for everyone. It is small, lightweight and easy to use. It packs in features like GPS, advanced flight modes and an HD camera stabilized on a two-axis gimbal.
The DJI Mavic Pro is a marvel of engineering. It too is small, and it folds up to about the size of a small water bottle. The Mavic is feature-packed with GPS and advanced flight modes. The camera of Mavic is capable of professional-quality 4K video and is stabilized on a three-axis gimbal. Let's take a look at the most important specs.
So the question is, which one is best for you. Should you get a DJI Spark or DJI Mavic? And, are there any other options?
Size and Portability
One of the biggest draws to both the Spark and the Mavic is their compact size and portability. It is hard to go wrong with either drone if you want something portable that can take excellent pictures. The Spark is lighter by about a pound, but the arms don't fold up making it a bit wider than the compact Mavic. The Mavic is arguably actually more convenient to fit in a bag, but the gimbal guard, protective dome, and folding arms make packing and unpacking the Mavic a much larger production.
Camera: Spark vs. Mavic
Portability is obviously important, but the camera system is ultimately what can make or break a drone. Both the Spark and the Mavic have excellent cameras, but they are not the same. The Spark camera is very good and you can't find a camera of its quality on any other drone of its size. The two-axis gimbal does a good job of stabilizing the footage. Like many of the early Phantom cameras, the Spark is fixed-focus and user-friendly.
The camera on the Mavic is a marvel of engineering. It too is small, but only the Mavic is capable of capturing professional-quality 4K footage. The three-axis gimbal of the Mavic has more roll and pitch travel, meaning it does a better job of stabilizing aggressive movements than the Spark. The Mavic has a semi-automatic focus. Why don't we call it autofocus? Because you need to tap your FPV monitor to tell the drone where to focus. This has burned pretty much every Mavic owner at some point with out-of-focus video. Also be aware that the default color profile is over saturated, and has too much contrast and sharpening applied. Take the time to set up your Mavic properly and you will be in love with this camera.
Specs: Range, Flight Time, Speed, and More
The Spark is limited to only a 100-meter range without the remote. Adding the remote is almost a necessity and increases the range of the drone to 2000 meters. We insist you get the remote, you won't like the Spark without it. If you have ever seen a Mavic or Phantom fly then the Spark will seem slow when it is not in sport mode. Why does DJI tune back the speed so much? It is because the gimbal cannot stabilize large pitch and roll angles. The Spark does have a top speed of 31 mph, but the footage is not completely stabilized at these speeds.
The DJI Mavic has an impressive 7000-meter range when paired with its remote. The Mavic relies on DJI's Lightbridge technology to transmit live video footage so there is less interference in residential areas. The Mavic has an impressive top speed of 40 mph, but again footage isn't as stable when flying in normal mode. Normal flight speeds on the Mavic are none-the-less impressive and most pilots won't find themselves flipping into sport mode as often as Spark owners.
Flight Modes: Spark vs. Mavic
The Spark was designed to be easy to fly and the flight modes were as well. The Spark includes a quick upward-launching Rocket mode, Dronie mode for selfies, and Circle does a quick orbit of an object. Like the Mavic, the Spark includes TapFly and Active Track modes. The flight modes of the Spark are simple to use but also lack customizability. The Circle mode, for example, is easy to use but it is not as reliable or customizable as the Point of Interest mode featured on other DJI drones like the Mavic. The Spark can also be flown without a remote control by using hand gestures. This is a neat trick, but mostly just a novelty. We don't recommend you fly with hand gestures or without a remote.
The Mavic also has an impressive list of flight modes but also allows for more customizability. You can program the Mavic to automatically fly almost any path pattern or route that you would like. The Point of Interest mode is easy to use and modify so you can specify how you would like to circle an object. Active Track will follow a subject that you choose and Waypoints allows you to tell the drone where to go and how.
 Cost: Spark vs Mavic
Ultimately your choice may come down to price. The Spark starts at $499, but that doesn't come with the remote or additional batteries. We highly recommend the Spark Fly-More package and that will cost $699 but gives you two additional batteries, a carrying case, and the remote control. There is no doubt that the Fly-More package is the way to go if you want a Spark.
There are actually a few different options when it comes to ordering a DJI Mavic. The original Mavic Pro starts at $999, but there is now the more powerful and efficient Mavic Pro Platinum that starts at $1099. It gives you 2 extra minutes of flight time, is quieter and a little more powerful, but will cost an extra $99. The Fly-More packages add another $300 and get you a couple extra batteries, carrying case and some other goodies. The best deal on a Mavic is the Alpine Pro Combo. You'll get the Mavic in Alpine white, two batteries and more for $1049.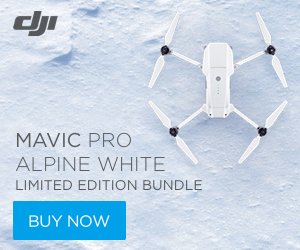 Alternative Options to the Spark or Mavic
In terms of quality, there really aren't many peers to DJI drones. Yuneec and Autel make solid drones, but if you want something other than a Mavic or a Spark we'd recommend taking a look at either the Phantom 3 or Phantom 4 series drones depending on your budget. You'll sacrifice the form factor, but still get a high-quality drone capable of taking excellent pictures or video.
Which one is right for you?
That really depends on what you are looking for. Everyone has their own specific needs. If you'd like to learn more about either the Spark or the Mavic we have full detailed reviews you can check out below. If you want to explore other DJI drones click here.
More Drones…
Every month we update what we believe are the best drones on the market. Check out Best Drones Now. We have also created the one-of-a-kind Half Chrome Drone Cipher™. You answer a few questions and we'll pair you with the best drone for you.
Do you want to search by price? Click on your menu above or we can break it down for you. Check out drones under $50, from $50-100, from $100-200, from $200-500 or over $500. Maybe you like a good Top Ten list, we've got you covered.
Learn More…
If you want to learn more about taking great pictures or flying FPV then check out our comprehensive guides on those topics. Also take a look at our articles on how to choose the right drone for great aerial photos or for getting started flying race drones. Learn more about drones and how to get the most out of them in our Drone Academy. In the Academy we also detail some of the advanced testing we do, including our recent addition, drone thrust testing.
I Want Videos…
Did you know that Half Chrome has its own YouTube Channel? We have reviews, flight tests, crashes, 360-degree videos and more. Check it out and subscribe today.
Disclosure:
This website contains affiliate links, which means we receive a commission if you make a purchase using these links. For full details visit the disclosures and disclaimers page.